Calibrations
Calibration is the activity of checking, by comparison with a standard, the accuracy of a measuring instrument of any. type. It may also include adjustment of the instrument to bring it into alignment with the standard. We assure your measurement by proving calibrations on time.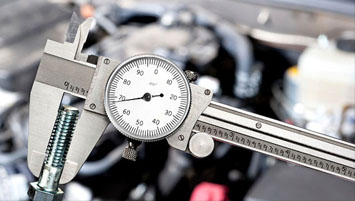 The calibration certificate documents essential information about the instrument's condition, and also provides details about out-of-tolerance conditions, special measurement conditions, and more. Each certificate includes a serial number that associates one calibration with one instrument.
It was established about a decade with the intention of customers providing the complete range of instrumentation activities including Calibration and Measurement, Electrical & Electronic Industries, Pharmaceuticals, Rubber and various types of industries. At Green TQM, we provide calibration with complete traceability certificate at competitive pricing and with a short lead-time. Our well-trained personnel have extensive experience to define and provide solutions to your problems.
We also provide a comprehensive after sales support and technical support so that you can rest assured that the products, systems and services. We extend to you will be totally reliable, with our wealth of expertise and experience, together with the strong backing of our strength, we are confident in meeting your needs and providing the technical back up which is ever so crucial in your operations.
Frequency Determination
The frequency of conducting each type of accuracy check depends on multiple factors, including:
Based on usage.
Regulatory requirements.
Manufacturer's recommendations.
Industry standards/Good Laboratory Practices.
Level of risk to product safety if the device is inaccurate.
Inherent reliability.
Environment of use. Is the measuring device moved (e.g., table-top scale moved during daily sanitation)?
Potential abuse, such as receiving thermometers that may be put into pockets, sat on, etc.
Historic information about accuracy/past performance.
When calibrations require?
There is no one-size-fits-all calibration schedule. Depending on how frequently you use your equipment and the accuracy required, you may need to calibrate as frequently as every month to as infrequently as every year or longer.
How do you calculate accuracy in calibration?
Accuracy = closeness of agreement between a measured quantity value and a true quantity value of a measurand.
Error or measurement error = measured quantity value minus a reference quantity value.
Tolerance = difference between upper and lower tolerance limits.